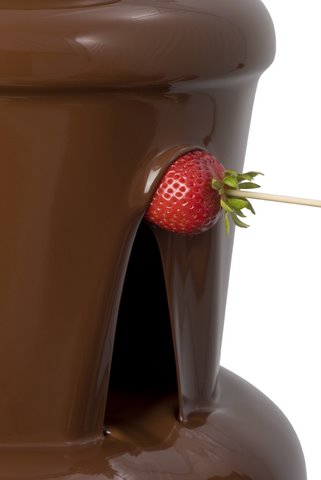 Price List
 Chocolate fountain – Package 1
50 guests
2 hours service time
Unlimited Pure Belgian chocolate  (NO ADDED OIL WHAT SO EVER and NUT FREE)
A fully certified, uniformed attendant
Unlimited dips, 6 different dips of your choice £180
Ideal for children's parties and smaller adult parties
 Chocolate fountain  - Package 2
100 guests
2 hours service time
Unlimited Pure Belgian chocolate (NO ADDED OIL WHAT SO EVER and NUT FREE)
A fully certified, uniformed attendant
light up surround
Unlimited dips, 9 different dips of your choice
Ideal for people on a LIMITED BUDGET  £265
 Chocolate fountain – Package 3
Full size light up 44" fountain, glow table, and stand
Up to 150 guests
3 hours service time
Unlimited Pure Belgian chocolate (NO ADDED OIL WHAT SO EVER and NUT FREE)
A fully certified, uniformed attendant
Unlimited dips. up to 14 different dips of your choice £300 
Chocolate fountain – Package 4
Full size light up 44" fountain, glow table, and stand
Up to 200  guests
3 hours service time
Unlimited Pure Belgian chocolate  (NO ADDED OIL WHAT SO EVER and NUT FREE)
A fully certified, uniformed attendant
Unlimited dips. up to 14 different dips of your choice £375
Everything is taken care of for you including napkins, dipping sticks & wet wipes.
Attended service, set up, keep clean (anti-bacterial wipes), close down.
A longer service time is available upon request.
We provide a large selection of dipping foods some of the most popular are:
| | | | | | | |
| --- | --- | --- | --- | --- | --- | --- |
| Fresh Strawberries |   | Marshmallows |   | Nougat |   | Mushrooms |
| Pineapple Cubes |   | Turkish delight |   |  Kiwi |   | Honeycomb |
| Glace cherries |   | Dairy fudge |   | Grapes |   | Foam bananas |
| Profiteroles |   | Banana |   | Melon |   | Foam shrimps |
| Mini donuts |   | Waffle |   | Jelly babies |   | Shortbread |
Candy cart – Package 1
Hire of the Traditional Cart with NO glassware or confectionery.
£80 for 1 day's hire
Candy cart - Package 2
Hire of the candy cart with all glassware (up to 16 jars & vases) NO confectionery.
£95 for 1 day's hire
Candy cart - Package 3
Hire of the cart with 9 jars & vases filled with a beautiful display of sweets.
All confectionery, scoops, bags & table decor included.
Great for 80-100 guests £175
Candy cart - Package 4
A larger version of package 3 (includes15 filled jars & vases).
Great for 100+ guests (maximum 150) £225
Candy cart - Package 5
Hire of the Traditional Cart for 200 guests
Includes glassware (18 jars & vases) confectionery, scoops, bags, and table decor  £295
All sweets left over from your Candy Buffet are yours to keep!
Ice-cream cart
Our ice-cream cart comes with the following:
6 flavours of ice-cream
All toppings ( sprinkles, chocolate flakes, and sauces)
Napkins
Luxury waffle cones
Staff member for service
0 -50 people £225
50 – 100 people £295
100 -150 people £425
2 hour serving time – additional hours can be added
Hog roast
Our hog roast package includes the following:
Courteous, discreet and friendly service.
The provision of a pig / meat for your specified number of guests
The hire of our equipment.
The provision of the gas to cook the food.
Gazebo, serving table, table cloth
Quality disposable plates, cutlery, napkins.
Serving bowls/utensils
The provision of rolls, salads, and apple sauce to accompany your hog roast.
The supervision by our staff of the cooking of the pig.
The provision of a chef to deliver carve, and serve the meat
A serving time of around 1 1/2 hours suits most parties but with prior arrangement, serving time can be extended for larger functions
The costs of setting up and discreetly clearing away after the food has been served.
Up to 50 people £545
Up to 75 people £595
Up to 100 people £645
Up to 125 people £695
Up to 150 people £745
Up to 175 people £815
Up to 200 people £885
For larger parties, or different meats, please enquire for a competitive rate.
Popcorn Cart
Great for children and adults alike
Everyone loves this traditional old fashioned styled popcorn cart
Unlimited sweet or salted popcorn in old fashioned boxes
Served from a traditional style cart
Up to 100 guests £125
Up to 200 guests £195
Cupcake wedding cake/favours
Large iced cupcake £1.25
Large buttercream cupcake £1.50
Mini iced cupcake £0.75
Mini buttercream cupcake £1.00
Extra decorations etc. at an extra charge
Silver Champagne - Beverage fountain
Make your wedding special and include our beautiful Champagne fountain. This is a fun way to serve your guests and can be used with fruit juice, wine, Martini, Pimms, Bailey's or any other liquid you would like to use it for. It has also been used for Whisky, Brandy or Vodka.
£160 Attended hire

£99 DIY hire

£70 When hired along with a Chocolate fountain at the same event.
Customers to supply their own Beverage and Glasses.
All packages include delivery and collection within a 25 mile radius of Armagh. Further distances will be charges at a per mile rate.
Terms and conditions apply – see contract. Multiple item hire at a discount rate.
With each of our catering menus, we aim to provide a wide range of inspiring high quality food choices, combined with a straightforward pricing structure.
Each of our event catering menus includes the following in the price:
An event manager, who will manage every aspect of your event, ensuring peace of mind for you.

A friendly, uniformed, and fully trained service team to ensure your event is perfect in every way. Your event manager will coordinate the team throughout your event.

Crisp linens, tableware, crockery, cutlery, and glassware. For other tableware options, or requirements, please ask your event manager.
Should you require a bespoke menu, table centrepieces, or any of the other items which we offer, please ask your event manager. We can even organise live entertainment for your event!