What a way to take people down the memory lane with creativity and the inclusion of fun on such a special day like your wedding with a tub and spoon of ice cream served from a vintage ice cream bike.
It is safe to say that most people both young and old adore ice cream. Serve it with style in a unique way and you will have a winning formula for everyone at your wedding reception to enjoy and remember. Ice cream was traditionally served from Ice cream tricycles in the early 1920's and were common place to get your favorite flavor of ice cream up until the 1950's. What a way to relive those past times and it will be certainly be a great idea to share it at your most special day.
Ice cream bikes can make a marvelous addition to your wedding be it a simple garden wedding with a few people or that big wedding. In whichever case you can decorate it in the traditional ribbons, bows and flowers that match the color theme of you wedding thus making them even more photogenic. If you have been looking for something different to wow  your guests with at your wedding reception then look no further than the inclusion of an ice cream bike parked on your reception lawn serving them as much ice cream as they can consume especially if you are having your wedding on a beautiful sunny day.
Treat your guests to one of the delicious flavors of ice creams chosen from a range of superb flavors. Whether young or old, your guests will for sure find flavor to love and most certainly your wedding day will be embedded in their hearts for years to come. There are ice cream providers who offer bikes for hire and they will even include special decorated cones for the bride and the groom while the guests present are left to choose from the traditional waffle cones or the pretty tub and spoon.
When you want to hire ice cream bikes for your wedding make sure you are offered with different packages in order to cater for different tastes that would certainly be available at your wedding. Of course there is always ice cream included on your ice-cream wedding cart, and if you want the bikes to be there for just two hours or the entire day the package you choose should be able to cater for everything that best suits you.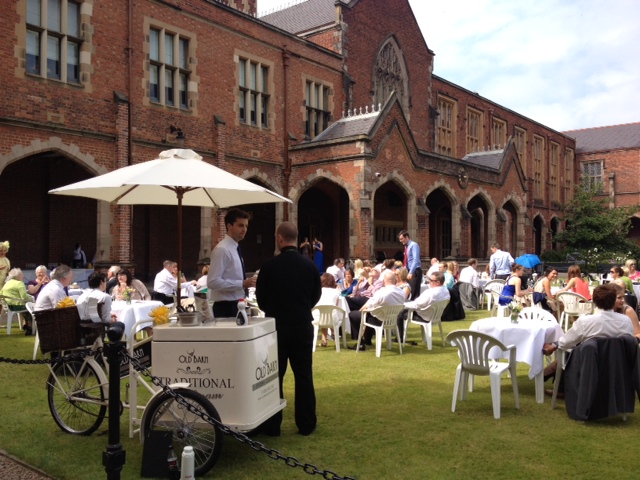 This is actually one of the latest trends in weddings. Personally I find the idea to be a big plus. Just think of this, what a way to make your guests both adults and children have fun whilst you slip off with your spouse to go have photos taken. Ice cream also can be a replacement for the traditional dessert and it can be offered on the lawn or garden. If you are looking for something to make your upcoming wedding a little more special just throw in a traditional ice cream bike and have your guest have a taste of their favorite ice cream flavors.